With the PowerTraxx app you are able to analayze your tours absolutely more reliable, accurate and comprehensive than ever before! Experience how much fun it is to professionally analyze your personal performance and reach your golas. Holding each of your routes and connect firmly experiences with photos, an accurate track log and a unique wealth of performance
Function overview:.
• Cockpit: capture your sports activities and track your training progress
• maps: display of the current position and the distance traveled
• Dashboard (PREMIUM): Fitness Index, odometer (equipment), statistics, comparison
• records: list your activities with map
• Sport activity : display of calorie, performance (Watt), stress, heart rate, steps, weather information (PREMIUM)
• Automatic naming of your activity
• auto Pause: calculating the pause at the end of the sports activity
• photos: Match the pictures with your tour (geotagging)
• Share your activities on Facebook and
email • All your sporting activities are stored on powertraxx.de
• newsfeed: See you your recent activities and those of your friends to
whether the small Feierabendrunde on the bike, an extensive freeride tour in the mountains or a marathon, which takes you to your limits - the new app is PowerTraxx from now your perfect companion for your smartphone!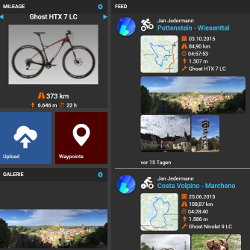 The dashboard
Here you have the full overview of their entire trips, comparisons and various statistics.
Also, the Power coach, this their training actively supported to find is in the dashboard.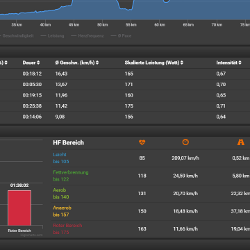 The graph provides data on the level, speed, average power and Pace.
Also Waypoints are shown for ease of navigation.
Our Segments help ambitious athletes their techniques to tas and yet to obtain more information from their training. the
distribution of heart rate is supplemented by a table with important additional information: power, distance, cadence.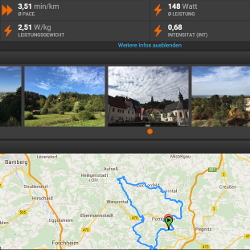 Learn all about your activities.
Look at your performance data, weather data, hearrate, cadence and more.
Get an overview over your route, view the images you have taken.